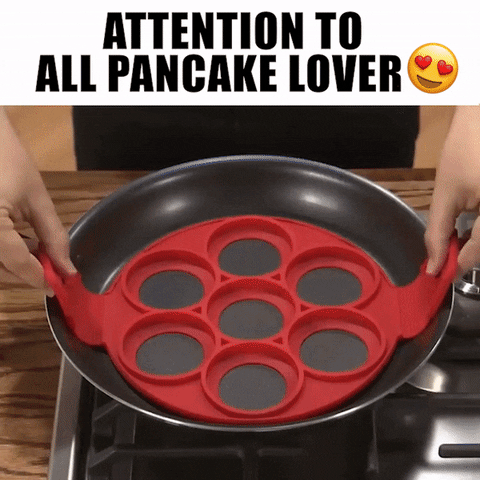 The Flip Cooker flips multiple pancakes, eggs and more at the same time and without the mess. Just place the Flip Cooker into a preheated pan, add the batter and let it brown. To remove, simply lift and flip. The secret is the non-stick, silicone ring. The side holds the batter to the perfect shape for even- cooking, while the flat, bottom ring supports everything. Features stove top safe, silicone and easy flip grips to keep hands away from the heat. Great for cooking eggs, omelets, hash browns and so much more! The Flip Cooker is dishwasher safe. 
The fast easy way to make perfect breakfast every time!
Recommendations:
Before first use and after each use, wash The Flip Cooker in hot, soapy water, rinse and dry completely or place in dishwasher.
Never use abrasive soaps or scouring pads. For best results, spray with non-stick cooking spray.
Prior to each use, place the The Flip Cooker on or inside the pan using Medium-High heat, bottom side down.
For 1 minute, apply pressure with a spatula to ensure product is in full contact with pan surface during this 1 minute curing process.
Repeat on opposite side.
The above process will help ensure, during use, total surface contact between The Flip Cooker and cooking surface for no leakage from the flat bottom rings.


Package Included:-