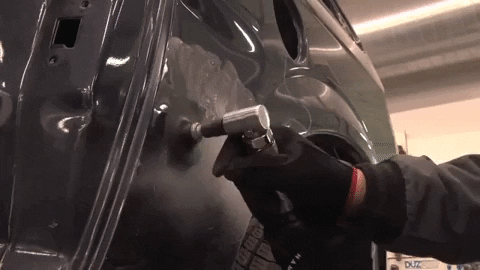 The 90-degree
Air Grinder
head allows flexibility in many applications, for reaching tight or angled grinding. It has variable-speed throttle ramps up to maximum RPM, built-in air regulator for precise speed control. The body is made from lightweight aluminum, rear exhaust, durable ball-bearing motor, the sealed ball-bearing design keeps out contaminants promoting smooth operation.
Air Grinder
is suitable for precision machining, smoothing, chamfering, deburring, grinding, polishing, engraving.
SPECIFICATIONS:
Collet size 1/4" (6.35mm).

No-load speed: 20000 RPM.

Air consumption: 2.8 CFM, 80L/min.

Pressure: 90 Psi.

Power: 0.6HP.

Air inlet specification: Air Inlet: 1/4" 

PACKAGE INCLUDES: 
Air grinder 1 pcs.

Wrench 2 pcs.

Backup 1/8" (3.18mm) collet 1 pcs.

1/4 NPT quick connector 1 pcs.
Maintenance for Air Grinder
Stop your ob when finding any irregular sound or vibration at operation and then check and repair the tool.

Because you are using clean compressed air at operation. Use an air filter at the air installation to clean the dust out of the compressed air.

Drop some Oil to the inlet of the tool and then run the tool slowly for a minute and finally start your work. Auto Lubricator/oiler is recommended.

Any dirt dust inside the motor may result in slow rotation even block running, at this time, try to drop some oil from the inlet, see whether solve the problem or return to the seller for maintenance.

Do release the water out of the air compressor and air hose after an operation.

Maintain tools with care. Keep tools clean for better and safe performance, follow instructions for lubricating. Inspect tools cords and air hoses periodically, if damaged, have them repaired by an authorized technician.