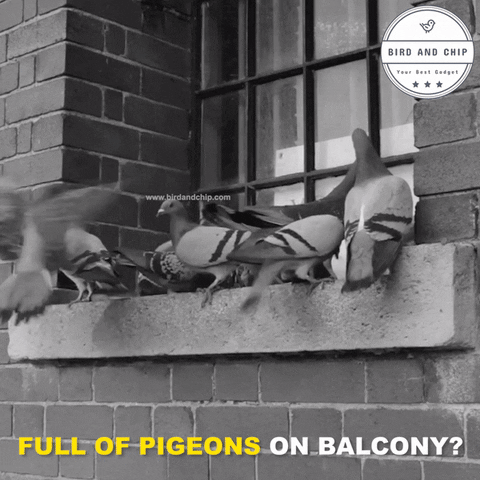 Are you encountering the same situation? 
SOLVE YOUR BIRD PROBLEMS QUICKLY AND EASILY WITH BIRD CONTROL SPIKES.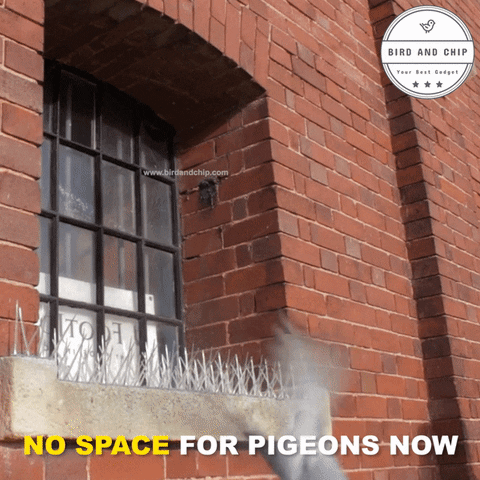 Bird repellent strips are a stainless steel bird & animal control spike that DETERS all pest birds and climbing animals, in all infestation levels and on all types of installation surfaces.
The anti bird spikes strips are virtually invisible while providing a cost-effective and long-term solution to deter nuisance bird/animal infestations and protect your property from damage.
FEATURES
HIGHLY DURABLE STAINLESS STEEL MATERIAL & VIRTUALLY INVISIBLE 

–

Made of premium 304 grade stainless steel material, this flexible bird spike will not rust or weaken when exposed to the elements or leave unsightly rust stains on your property. These bird spikes are virtually invisible that will blend in with almost any buildings, signs or structures with proper installation.
CORROSION-RESISTANT MATERIAL 

–

The special design and excellent weatherproof materials, make it could keep perfect even in the bad weather condition, such as snowstorm or rainstorm etc.The material is not affected by any weather changes, waterproof, high temperature resistance, low temperature resistance, and it could be used for a long time.
EFFECTIVE AND HUMANE BIRD SPIKE 

–

Stainless steel bird spikes are effective and humane that not only deter birds and other animals from landing and perching, but not cause serious damage to them. They act as a visual and physical deterrent which don't allow animals to have access to a certain covered area. The pins on the bird deterrent spikes make it uncomfortable for birds to land.These menacing looking bird barrier spikes also prevent burglars and other intruders from climbing on your fences.
MULTIPLE USES – Can be secured to ledges, gutters, fences, chimneys, and any surface thanks to the flexible yet durable base.
STOP BIRDS – Spike kit repels all species of birds from landing, perching, and making a mess of your property
Product Description
How It Works
High quality Stainless Bird Spikes are 100% effective at preventing pest birds from landing, nesting, or roosting on selected surfaces. By installing the spikes on surfaces where pest birds like to perch an uninviting, irritating, & intimidating barrier is established, forcing them to relocate. Stainless steel spikes are humane and only require a single application for years of efficacy.
Pests Repelled
Stainless Bird Spikes effectively repel pigeons, sparrows, starlings, crows, blackbirds, grackles, & swallows amongst many other pest birds.
Where to Use
Stainless Bird Spikes are effective wherever they are applied such as homes, garages, rooftops, windowsills, signs, billboards, ledges, playgrounds, beams, yards, gardens, gates, fences, barns, & more.
Installation
Installation for Stainless Bird Spikes is easy and can be done with bird spike adhesive, nails, screws, or ties. The flexible base of the spike strip allows these spikes to be installed on straight, curved or uneven surfaces. When applied correctly, Stainless Bird Spikes are 100% effective in repelling birds 24/7.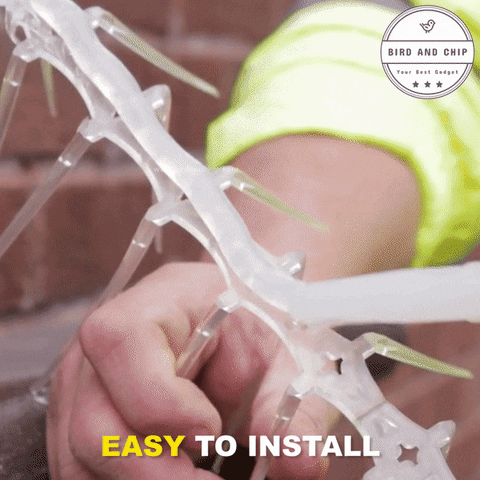 Installation steps:
Insert the felting needle and the corresponding hole position of the bottom support together

Determine the installation location, clean the dust, then paste the transparent nano-tape well

Press the bottom support of the felting needle gently to the nano-tape and press them firmly

Stick nano-bird-repelling belt near the felting needle, then install it nondestructive
Why Bird Spike?
Cut down on cleanup & repair costs.
Protect buildings, equipment, & vehicles from corrosive bird droppings.
Reduce health & liability risks associated with pest bird infestation.
Prevent the spread of diseases, such as West Nile, Salmonella & E. Coli.
Eliminate fire hazards caused by birds building nests in vents & chimneys.
Avoid government & safety inspection failures.
Save outdoor grounds from bird damage.
Increase property aesthetics.
Decrease nuisance for residents, workers, customers. 
Where to Use Spikes:
Edges, ledges, windowsills
Rooftops, parapets, cornices
Beams, girders
Lights, towers, masts, aerials
HVAC installations
Porches, awnings, doors, and entryways
PACKAGE INCLUDED:-
Note: *Bird repellent spikes WILL NOT harm birds. *