Man's best friend...... Until the end.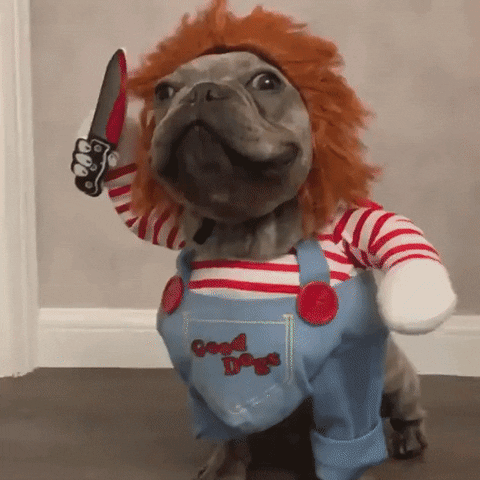 Yes! A Chucky Costume for dog is finally available and it is so adorable! 
It includes attached arms, an orange wig and a foam replica of the knife from Child's Play!
His Costume featured a red-and-white striped shirt and overalls that read "Good Dogs" rather than "Good Guys". 
SIZE CHART
The Chucky Costume for Dog is perfect for dogs all shapes and sizes. Check the sizing guide below to see what fit is the best for your pup. 

Size
Suggested Breed
S

Chihuahuas
Yorkies
Pomeranians
Small Puppies

Mini Schnauzers
Shihtzu
Bichon Frise
Maltese

M
Pugs
French Buldogs
Corgis
L
Australian Shepherd
Basset Hounds
Standard Poddle
XL

Labs
German Shepherds
Golden Retrievers

Rottweilers
Tibetan Mastiff
BullMastiffs
Always look at the size chart for chest girth and length and confirm the size before you buy.

If your measurements are toward the upper end of the range given for a particular size,you may also want to choose the larger size, as you may also wish to do for heavily coated dogs to accommodate all that fur.

Take each measurement a bit loosely, so there will be room for your dog to move and breathe, but not too loose. (the measurement for Belly Bands is the exception -- it needs to be a bit snug) Please measure carefully before buying.
PACKAGE INCLUDED:-
1 x Chucky Costume for Dog