Are you still worried about the heavy operation and low efficiency of ordinary rivet guns?
Our Cordless Electric Rivet Gun Adapter have lower noise, more efficient, small size and easy to carry, universal drill attachment to easily apply nut rivet Inserts to various materials.
Cordless Electric Rivet Gun Adapter also have a Non-slip Handle with 4pcs of convertible Head and a Wrench.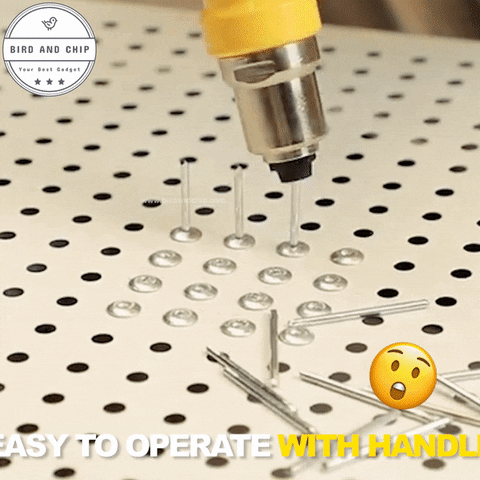 FEATURES
HIGH STABILITY:High-hardness hexagonal connecting rod, stable clamping, suitable for all types of electric drill,Special plastic handle for metal fittings, which can be placed in metal parts. When used, the handle can be held to increase the stability during work.

MORE DURABLE:

This electric rivet gun is fully metal forged and has high working strength. The alloy steel forged gun head has high hardness and durability, saving time and effort.
MORE CONVENIENT:This Electric Rivet Nut Gun adapter more labor-saving than manual and more convenient than pneumatic.It is a good helper for your home and work.
GREATER ADVANTAGE: Compared to traditional rivet guns, it's lower noise, more efficient,small size and easy to carry, contrast with the traditional riveter: hand riveters is laborious and inefficient.
HIGH QUALITY HANDLE: Comfortable grip and is not tiring for long hours of work.
MULTIPLE SIZES: 4pcs threaded head for replacement. 2.4mm,3.2mm,4.0mm,4.8mm.
WIDE APPLICATION: Compact size and weight for areas of the manufacturing industrial fastening.
HOW TO USE:
Adjust the electric drill to the appropriate gear position.
Open the drill clip, insert the adapter, positive rotation, clamp the connector.
Turn on the reverse rotation function of the drill until you hear the sound of "DADADA", then put the rivet of the appropriate size.
Turn on the positive rotation function, align the holes, and insert the rivets.
Turn on the reverse rotation function and exit the rivet.
SPECIFICATIONS
Nozzle Size: 3/32", 1/8", 5/32" and 3/16"
DIY Supplies: Woodworking, stainless steel, pipes
Power Source: Work with the electric drill
Color: Black
Material: Alloy Steel
Gun Adapter Length: 150mm
Hex Shank Diameter: 6.35mm(1/4in)
Wrench Length: 150mm
Grip Length: 122mm
PACKAGE INCLUDED:-
1 x Riveting Gun Adapter
1 x Handle
4 x Rivet Head