High Quality Portable Hot Air Gun
Hot air gun is made of high quality ABS plastic outside and stainless steel material inside, which equipped with the stainless steel bracket for hands free operation can rotate 100 degrees to easily complete all of your household heating and electrical projects.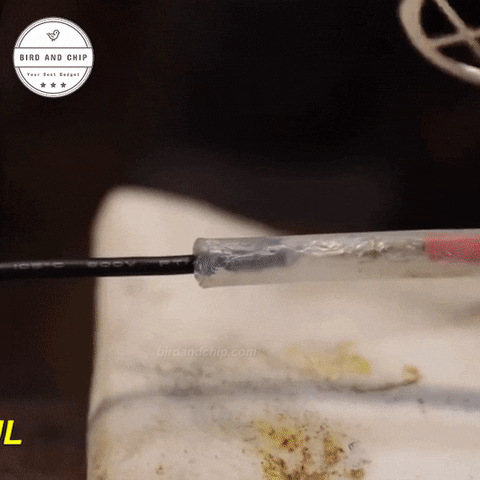 Two Vents
Two Vents design help to reduce the internal temperature of the hot air gun. The controllable on/off switch is to ensure your safety. Do not use more than 10 minutes continuously.
Portable Mini Heat Air gun
Portable small size makes it an ideal heating tool for getting into hard-to-reach places and concentrating high heat on small areas. It comes with a built-in safety shield with supporting bracket for tabletop use. It is really handy as you can operate the mini hot air gun just like holding a pen!
Compact and lightweight design for ease of use and handling. Do not blow directly at 90 degrees to the item, keep 45 degrees. 
USAGE:

 
Plug in the heat tool.
Hold the gun but do not touch the hot nozzle.

Keep a distance of 5-6cm

from the vent, heating at an angle of about 45 degrees until the completion of the work.
Turn off the power to stay cooling.
Multi-functional Mini Hot Air Gun for DIY
1. Electrical Repair
The heat shrink gun can be used for electrical repair, heat shrink tubing. you can insert the wires to heat shrink tubing and use mini hot air gun to shrink the tube. Do not touch the tube until it is cool completely.
2. Embossing Powder
Use this embossing heat gun to emboss powder, as the embossing powder melts, it will become smooth and dimensional. Be careful and hold it with tweezers so you don't burn your fingers.
3. Heat Shrinkable Sheet Production
You can try to make heat shrinkable sheet. Do not take the shrinkable sheet directly to prevent burns.
4. Melting and Sealing Wax
Use a heat gun to melt the wax. After the wax is dissolved, pour the wax water to the position to be sealed, such as wedding envelope, then stamp and wait for the cooling to be completed. You can write a letter or make a thank you card to someone special.
5. DIY Soft Clay and Potter
This portable hot air gun is the best tool for soft clay art with temperature 200°C/390°F. Heats up quickly to help soft clay shaping.
FEATURES
Easy to use: Just keep 5-6cm distance from your amazing work and to heat it at about a 45 Degree angle until completed.
Good Quality: 100% Brand New and High Quality ABS and PC plastic material, it equip with the stainless steel bracket to rotate 100 degrees. It is Very compact, durable & practical
Warm Tips: The temp of the nozzle could reach to 200° in seconds. Recommended using time is 2-3 minutes in one time. Just turn off then turn on for working continuously
Two Vents: There are heat vents in left and right sides to decreased the internal temp and extend its lifetime.
Suitable for: This excellent compact heat gun can be used for heating shrinkable film, embossed powder, rubber stamp. Built-in stand for self-support and table top use
Dimension: 225*47mm / 8.86*1.85in.
Voltage: 220V

REASON OF USING THIS PORTABLE HOT AIR GUN
Small size makes this an ideal heating tool for getting into hard-to-reach places.
High quality ABS anti-slip hand-hold part outside have high temperature resistance
The temperature control device and micro-circulation cooling system inside will always keep you safe
Heat up to 200°C/390°F quickly within few seconds
Two professional heat vents reduce the internal temperature of the heat gun and extend its life
100° adjustment stainless steel stand, flexible & self-support
On/Off switch give more safe
SPECIFICATIONS
Available Color: White, Black
Material: ABS
Size: 8.86*1.85 inches Wire length: 39 inches
Type: Constant temperature
Working temperature: >200℃
Rated power: 300W
Power type: AC power supply
Rated voltage: 220V
Weight: 213g, 275g (w/ boxes)
Working Time: 8 minutes
PACKAGE INCLUDED:-
1 x Heat Gun
1 x Instruction
1 x Protecting Cap