MATH MADE SIMPLE

BY USING THIS! 

SIMPLY GRAB A CARD

AND

PUT THE CORRECT QUANTITY OF MONKEYS

ON ONE SIDE OF SCALE, AND THE CORRESPONDING NUMBER ON THE OTHER SIDE

TO BALANCE THE SCALE!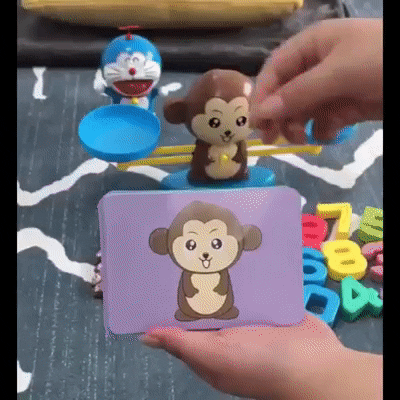 COOL MATH GAME - This game teaches

basic counting and beginning math skills

and encourages retention through stimulating multi-level math games.

BEGINNER

-

Green Cards

, which learn to recognize the numbers.
INTERMEDIATE

 

- Purple Cards, which learn to match.
ADVANCE

 

- Blue Cards, which learn to count.
INTERACTIVE LEARNING - Monkey Balance is perfect for children ages 3 and above and is the ideal teaching tool for parents, families, and teachers looking to encourage and reinforce multi-dimensional learning at home, school, nursery, and during tutoring sessions.
EASY SET-UP + INSTRUCTIONS - Monkey Balance has everything kids and families need to start playing and having hours of math and counting fun! This STEM game is easy to assemble and easy to learn—so children and families can start playing instantly.
ENGAGING + EDUCATIONAL PLAY - Get toddlers and young kids on the

counting and mathematics fast track!

Monkey Balance improves memory, encourages interactive play and helps develop fine motor skills. Cute graphics and colorful design are eye-catching for the whole family! Monkey Balance also makes a great gift for young girls, boys and families!
PACKAGE INCLUDED:-
1 x Monkey Balance - Math Game

This 65-piece toy set includes: 19 monkeys, numbers 1–10, 30 double-sided cards, monkey scale, base, 2 scale pans and an easy-to-read instruction leaflet.