Every master manicurist favorite practice tool!
Practice your manicure skill as long & as many times as you want with the Nail Trainer! Learn to design the prettiest nails for yourself & your friends!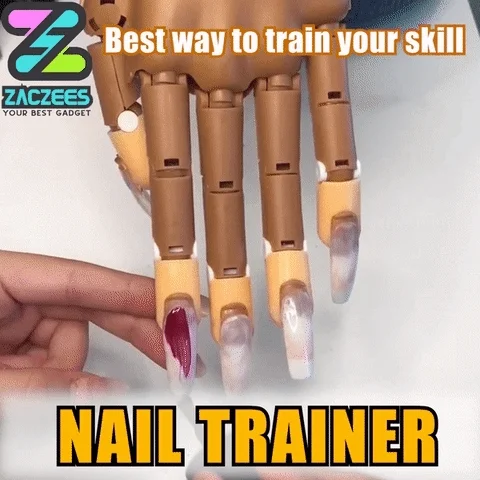 The Nail Trainer is a flexible & adjustable hand mannequin with replaceable nails to let you practice designing beautiful nails anytime you want! It is made with the size of 1 : 1 to human hand, stimulating the exact situation just like you're training with a person's hand!
The Nail Trainer can be used for acrylic, gel or even wrap on the detachable finger! The fingernails on the mannequin can also replaced easily after use, making it extremely convenient & easy to use! Either you're already a master of nail art, or a  beginner just started picking it up as a hobby, the Nail Trainer will definitely become your go-to practice equipment! 
FEATURES-:
Made of Sturdy, Flexible ABS
1 : 1 Size to Human Hand
Suitable for Nail Manicure Practice 
Can be Used With Acrylic, Gel & Wrap Practice
Adjustable & Detachable Finger Shape
Re-usable & Convenient
Perfect for Professional or Beginner
PACKAGE INCLUDES-:
1 x Nail Trainer
1 x 100 Pieces Replacaeble Nail