STEAMING IS A HEALTHY & FAST WAY TO PREPARE MEALS.
Thanks to this Stainless Steel Steamer Basket. It's Ideal for making delicious meals and steaming food without losing nutrient. 
UNRIVALED QUALITY: Our basket is made of 100 percent food-safe grade 304 stainless steel, will not rust, corrode and bend when being steamed in pots. FDA approved. Secure and healthy, you can make nutrient meals for your family. Furthermore, featuring good heat conduction capacity, it will allow you to steam your food quickly.
STEAMED FOOD: Excellent practicability. Ideal kitchen tool to steam vegetables, meat, seafood and more. Just put it into your pot or pan when steaming food and you will love it. It is extremely user-friendly and an awesome gift for your family and friends.
MULTIPLE FUNCTIONS: Serve as a fruit container. After washing fruit, you can collect them into the basket. A beautiful decoration for your kitchen. It can be used as a strainer to filter extra water when you are making salad.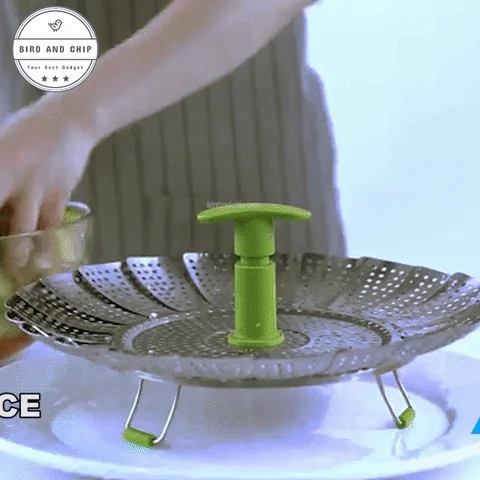 UNIQUE CONSTRUCTION: Collapsible design, expandable diameter up to 9in. It is adjustable to fit varisized pots or pans. Opens like a pretty water lily to collect much food and closes to become compact for saving storage space. Steam any food in seconds. Tons of circular perforations make steam pass through, and you will taste a nutrient meal instantly. Adopts premium PP material, the grip is heat-insulated, ensuring you will not be burnt when you move the basket from the pot or pan.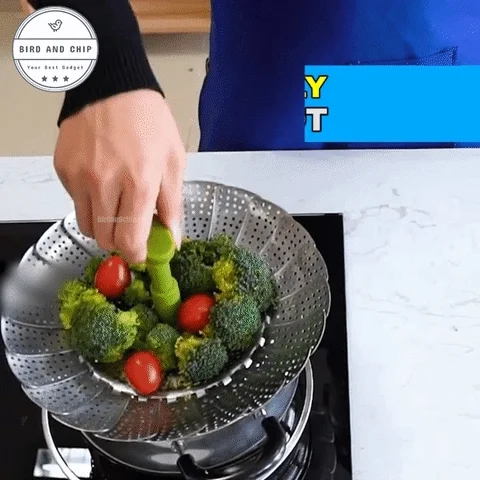 NON-STICKY & EASY-CLEANING: Cleanup is easy as a breeze. Just rinse it under water and brush it. Plus it is totally dishwasher safe.
PACKAGE INCLUDES-: