Drilling the wrong hole could LEAD to ELECTRIC SHOCK! 
The all new Stud Finder is
WHAT YOU NEED!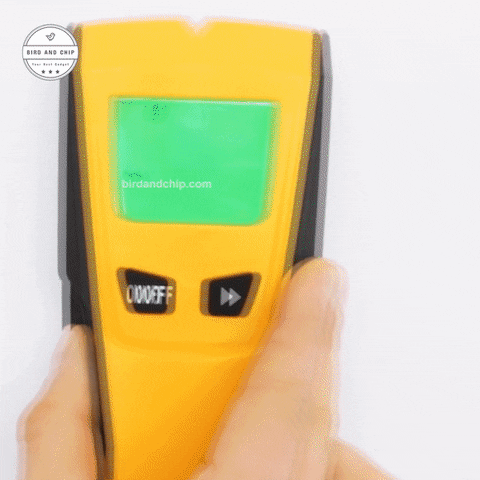 FEATURES
【GRAPHICAL LCD DISPLAY】LCD display for easy reading. Quickly detect the center of the wooden stem. The edge of the wooden stem is displayed. With low voltage display.
【THREE SCANNING MODES】The center of the wood stem can be detected and the wall thickness is within 1/2 inch (13 mm). The center of the wood stem can be detected and the wall thickness is within 1 inch (25 mm). The center of the wood stem can be detected and the wall thickness is within 1-1/2 inches (38 mm).

【DEEP SCANNING MODES】

It can detect iron, lead, aluminum and other metals, and the wall thickness is 3 inches (76 mm). It can detect live wires in the wall and the wall thickness is within 3 inches (76 mm).
【SOUND WARNING】All detection functions have an automatic correction function. All detection functions are equipped with an AC alert function.
【SIMPLE AND FAST】Can QUICKLY LOCATE the edges and center of metal studs, pipes, rebar, joists behind walls, floors, and ceilings as well as the live AC wires. Fast detection saves users time and efforts, making the task completion EASIER.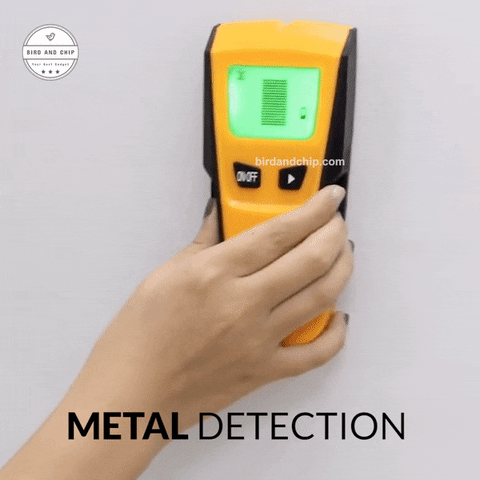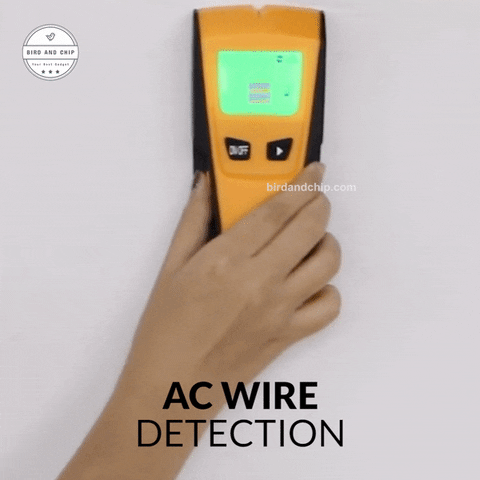 IMPORTANT TIPS
For proper use, always place this product flat against the surface before powering on.
Place it flat on the wall first. Then continuously press and hold the Scan button, and keep the unit still until calibration is complete (1-2 seconds). When calibration is complete, the unit will sound a short beep and the display bars will be cleared.
Keep it flat against the wall and move the unit slowly. Do not rock or lift it.
While calibrating, the device must not be placed directly over a stud, dense material such as metal, or over a wet or newly painted area, or it will not properly calibrate. If all segments of the middle LCD parts flash on and off, and intermittent beeps when the activation button is pressed, move the device to a different location, release the activation button and try to calibrate again.
Before scanning, please check the thickness of the position be detected is fit for detection.
Detection depth and edge detection can vary due to moisture content of materials, wall texture, paint, etc.
SPECIFICATIONS 
Material: ABS shell
Weight: 170g
Color: As shown in the picture
Size: Approx.69.5*30*154.7mm/2.7*1.2*6.1in
Operating temperature: 0 ° C - 40 ° C, driven by a 6F22 9V battery (the battery is not included in the package)
PACKAGE INCLUDED:-
1 x  Stud Finder (Battery is not included)
NOTE:
Due to the different display and lighting effects, the actual color of the item may differ slightly from the color displayed on the picture. Thank you!

Allow slight measurement deviation due to manual measurement.