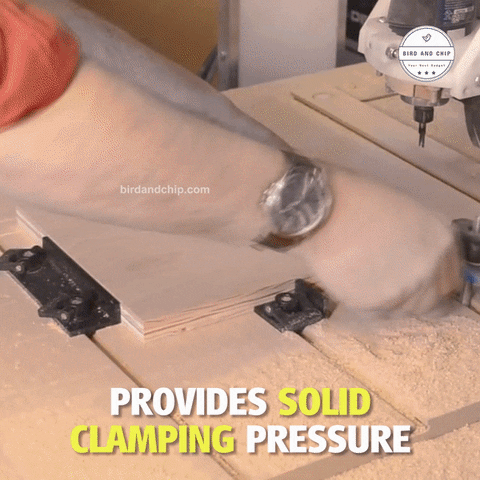 The T-Slot Clamp is designed to provide high-tension clamping pressure on a variety of woodworking and metalworking projects; The clamp bars feature a bent shape to ensure optimal leverage and clearance to your workpiece, while the 5-star knob adjusts easily to securely tighten the workpiece to your workbench and T track. It provides Solid Clamping Pressure.
Design your own jigs and fixtures with these T-Slot Clamp to easily hold various materials together for cutting or assembly; T slot bolts fit into your universal T-track and can slide and tighten anywhere along the flush-mounted track; Great for use with routers, saws, CNC, drill presses, and other woodworking and metalworking tabletop tools.

Solid steel T slot bolt, a heavy-duty plastic knob with brass threads, and an anodized aluminum drill press hold down clamp bar provide strength, durability, and longevity to this T slot clamping kit; T bolt features 3-1/2 inch (8.9 cm) length to allow for a 0 to 2-1/2 inch (0 to 6.4 cm) working range.
Heavy-duty rubber pads on each end of the clamp bars protect your workpiece from pressure markings that other clamp types might leave; These rubber pads also provide a sturdy grip to the workpiece for maximum tension; These truck tool box clamps work well on soft woods, pre-finished panels, and other prefinished wood stock.
FEATURES:-
Made of aluminum alloy, practical, light weight, corrosion resistant.

Applying clamping pressure anywhere on the flush-mounted T-slot and T-track.
Slide into the T-track and quickly fix it by turning of the hand knob.
Suitable for many woodworking and metalworking applications for workpiece holding, positioning and fixing.
Wide range of uses. It is also ideal for clamping jigs and fixtures.
Easy to install and use, ensuring good performance and helping to increase efficiency.
Two kinds of sliders can meet different working requirements.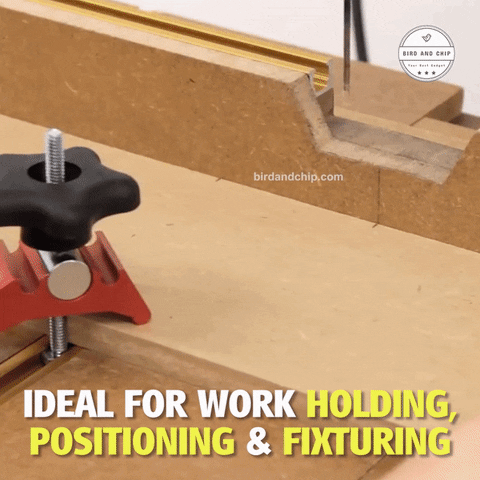 PACKAGE INCLUDED:-