The ultimate apron you'll only need!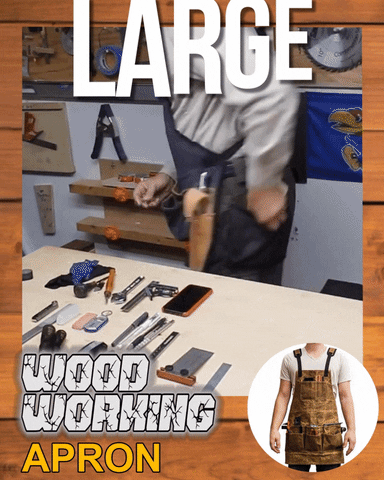 It is extremely important to be well-dressed & well-prepared for any situation, but needing to purchase different kind of apron just for a sole task might be too much! Grab yourself the Woodworking Apron, a special apron handcrafted from canvas that will serves in any sort of situation!
The Woodworking Apron comes with 11 pockets & 2 loops for you to store your tools or item, it comes in extremely handy when you're in need of switching between several tools quickly for complicated task! Its adjustable strap & flexible loops also ensure a comfortable wear even after long hours!
The Woodworking Apron can be used as tool apron, carpenter apron, shop apron, gardener apron & many more! The canvas material it used is perfectly waterproof & scratch proof, ensuring you a safe & convenient woodworking experience!
SPECIFICATIONS-:
Materials:Canvas
Product Size: 65 × 66cm
FEATURES-:
Packed With 11 Pockets & 2 Loops For Quick Access To Tools & Items
Double Layered hammer Loop With Different Diameter
Perfect For All Sorts of Tools, Nails, Pencils & Mobile Phone
Adjustable Shoulder Straps & Flexible Buckles, Suitable For Men or Woman Sized S to XXXL Size
Best Used For Woodworking & Trim Work
Handcrafted from Canvas Material, Strong Stitching & Long-lasting
Multipurpose, Multifunctional & Wide Application
Can be Used as Tool Apron, Carpenter Apron, Shop Apron, Woodworkers Apron, Garden Apron, Workshop Apron, Work Smock, Woodworking Apron Work Apron & More
Easy to Wear & Remove
PACKAGE INCLUDES-: