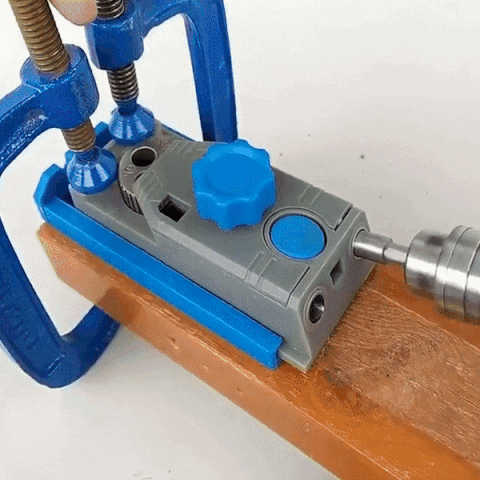 A jig is an easy to use tool for joining two pieces of wood together. By drilling a pilot hole in one piece of wood, a screw can then be driven into an adjoining piece of wood, creating a strong, long-lasting joint. We can use a jig to build cabinets, tables, drawers, face frames, picture frames, shelving units, bookcases, window jackets, door frames, decking or even stairs.
Whether for drilling pocket or dowel holes, you'll set the jig up in 4 straightforward steps.First, using the jigs side ruler, measure the thickness of the workpiece. Then match the thickness with one of the pre-set drill depth settings along the top of the jig. Set the collar stop distance, clamp the jig in place, drill your hole and…voila. 
FEATURES:
Straight holes and angle holes:

 

Two effects combined, save money and time. 4 -ways can be drilling straight holes and 2 -ways oblique holes for accurate positioning.
The design is reasonable, flexible use, have scale marking, easy to adjust hole depth from 1/2-Inch to 1-1/2-Inch
With wooden tenon hole, vertical drilling function is the ideal tool for plate furniture.
Glass-Reinforced Nylon:

 

The blue body of every Jig is made from heavy-duty, glass-reinforced nylon. This composite material offers the resiliency and flexibility you need without sacrificing the strength and durability.
Hardened-Steel Core:

 

The core of every Jig features hardened-steel. The R3's core shrouds the bit and supports the workpiece through 100% of the drill-stroke for minimal bit deflection, reduced tear-out, and a clean, pluggable pocket hole.
Screw stealth:

 

It makes drilling the angled hole easy. It's an extremely strong joint, and you can use it on any type of project and every screw is neatly hidden away. A Pocket Hole is an angled hole drilled into one board, which then allows you to drill a screw through to another board.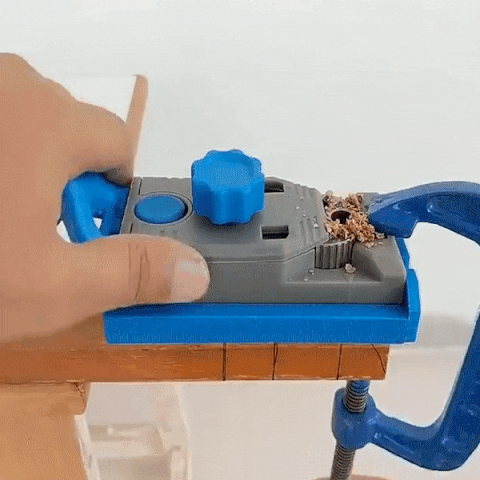 SPECIFICATION:
Drill sleeve size: 0.24/0.31/0.39/0.47IN (6/8/10/12MM).
Total length (include handlebar): 9.06IN (230MM).
Material: ABS and Alloy Steel.
Size: 5.11*2.56*2IN (13*6.5*5CM).
Suitable for a 4.7-15 IN (12-38MM) thickness of the wood.
Required assembly tools: clamp, cordless screwdriver or an electric drill (not included).
PACKAGE INCLUDED:
1 x Woodworking Pocket Hole Jig